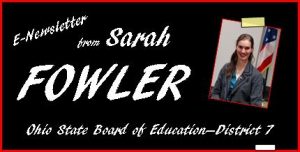 Oppose Removing Transparency
from Ohio's State Education System
2-20-2018 UPDATE: HB 512 has been assigned to the Government Accountability & Oversight Committee.  In addition to calling your own state representative (information at bottom of page.)  Please CALL the members of the committee and ask them to OPPOSE HB512!
Government Accountability & Oversight Committee Members
Chairman Louis Blessing III – (Co-Sponsor of HB 512) (614) 466-9091
Vice – Chairman Bill Reineke (Sponsor of HB 512) – (614) 466-1374
Kathleen Clyde (Running for State Office) – (614) 466-2004
Keith Faber (Running for State Office) – (614) 466-6344
Timothy Ginter – (614) 466-8022
Dave Greenspan – (614) 466-0961
Brigid Kelly – (614) 466-5786
Bernadine Kennedy Kent – (614) 466-5343
P. Scott Lipps – (614) 644-6023
Dorothy Pelanda (Co-Sponsor of HB 512) – (614) 466-8147
Bill Sietz – (614) 466-8258
Ryan Smith (Running for House Speaker) – (614) 466-1366
Martin J. Sweeney – (614) 466-3350
ORIGINAL MESSAGE: On February 14, 2018, Representative Reineke announced legislation that would combine the Ohio Department of Education, Ohio Department of Higher Education, and Ohio Department of Workforce Transformation into a single new department organized under the governor. (See also: Plain Dealer Article)
The State Board of Education, which includes 11 regionally elected members, would no longer have any voice in state education policy. This includes a wide range of state regulations, such as:
– Education Standards in all subjects
– Education Assessment selection at the state level
– Determination of Achievement/Proficiency Levels
– State Report Cards
– Teacher/Student Ratio's
– Private School Regulations
– Religious School Regulations
– Home Education Regulations
– Public School Operating Standards
– Career Technical Regulations
Currently all of these items (and many more) go through a public hearing process. Under the proposed legislation, it appears that all policy making function would be further bureaucratized and no longer created through a transparent, accountable process!
Immediate Action Needed!
1. CALL your state representative and ask them to OPPOSE Representative Reineke's "Workforce and Education Alignment Legislation." (HB512) If you can make two calls, call the Speaker of the House as well.
(Look up your representative here: http://www.ohiohouse.gov/)
2. SHARE with everyone you know and SUBSCRIBE to updates (below).
This is time sensitive and urgent!
If we do not have an overwhelming number of calls this week this legislation could remain priority legislation for the House Speaker, be railroaded through the legislative process and result in an elimination of voter's voices in education policy!
3. Like my Facebook page for regular updates, this is a breaking news issue.
Thank you!
Sarah