When: May-November 2018
Where: Varies with Specific Opportunities
Contact: Committee to Elect Sarah Fowler
Contact Email:
sarah@electsarahfowler.com
Contact Phone: (440) 563-8535
Open Volunteer Spots: Unlimited
Volunteer with Sarah's 2018 Re-Election Campaign Team!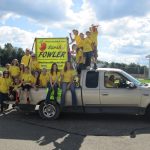 Our amazing network of committed volunteers have been instrumental in Sarah's initial election to the State Board of Education in 2012 and subsequent re-election in a hotly contested, four-way race in 2014.  We would be honored to have you to join our 2018 Volunteer Team as we share Sarah's commitment to preserve parent's voice in their children's' education and strengthen local control of Ohio's public schools!
To join Sarah's 2018 Volunteer Team, please submit the form below.  Thank you for your support!
Express Interest in Volunteering